Everyone at Pandipieri Salutes Eric Ombuoro Achola
Graduating with an MBA from Nairobi University
Everyone at Pandipieri is pleased to congratulate Eric Ombuoro Achola for earning top honors in the MBA program from the Faculty of Business and Management Sciences at the University of Nairobi, Kenya. Mr. Achola was awarded the PricewaterhouseCoopers prize for being the Best Final Year MBA Student at the University, where he ranked first in his graduating class of 306 students. Well done, Mr. Achola!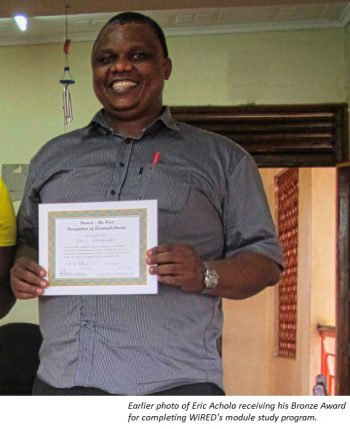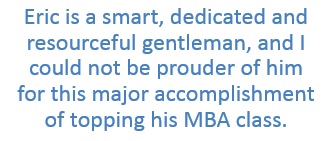 WiRED International, a nonprofit that partners with Pandipieri and works on the Community Health Worker program there, is also proud of Mr. Achola's accomplishments. WiRED Executive Director Gary Selnow, Ph.D., explains Mr. Achola's connection to WiRED:
I have worked closely with Eric Achola for many years on WiRED's programs at Kisumu Urban Apostolate Programes (KUAP) Pandipieri. Eric handles the finances of our programs there, and he has been instrumental in many other features of our work as well. He has contributed his skills to WiRED's Community Health Worker (CHW) Training Program and to the deployment efforts of the CHWs. Eric is a smart, dedicated and resourceful gentleman, and I could not be prouder of him for this major accomplishment of topping his MBA class.
Currently Mr. Achola is the Finance Officer of KUAP-Pandipieri. He said:
My work involves managing the financial resources of the organization, ensuring compliance with all statutory and donor requirements on financial reporting, participating in developing funding proposals, ensuring the IT resources of the organization are accessible and used optimally and participating in the development and implementation of organization strategic plans, budgets and external audits. I am also closely involved in the implementation of WiRED IT programs in KUAP.
Mr. Achola's pursuit of the MBA provided an academic challenge and opportunity to grow in knowledge, understanding and confidence in handling complex financial, IT and administrative work in KUAP. The experience of doing the MBA involved a huge sacrifice because he worked full time and studied evenings and weekends.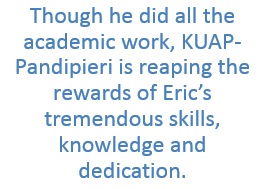 Sister Bernadette Nealon who directs the Pandipieri and Obunga health centers in Kenya (and who has partnered with WiRED for more than 20 years) had the following to say about Mr. Achola:
I am very privileged on behalf of KUAP-Pandipieri Board of Management, the management team, staff and volunteers to congratulate Eric for graduating from Nairobi University with an MBA and receiving the award for Best Student of his class. Though he did all the academic work, KUAP-Pandipieri is reaping the rewards of Eric's tremendous skills, knowledge and dedication. Congratulations, Eric, we are very proud of you.